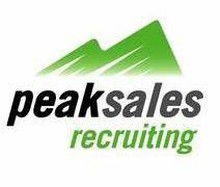 Peak Sales Recruiting
Where

111 N. Market St, Suite 600, San Jose , CA

Call

+1 408.707.1668

Contact

Web

Tags

Hours

Mon-Sun (9am-5pm)

About
What stage of sales recruiting are you in? Let us help you!

The most critical aspect of any sales recruiting effort is the alignment of the recruiting plan with the sales strategy. That's why our specialized business to business sales recruiting services are designed to help drive higher sales for customers from day one by integrating hiring initiatives with sales strategy and performance management.

Much as a machine works 24/7, never sleeping, never stopping, producing high quality results, so does Peak. Much as a machine hums with energy and power, so does Peak, taking on the challenges that headhunting top sales professionals presents for our customers so that they are free to focus on other aspects of their business.