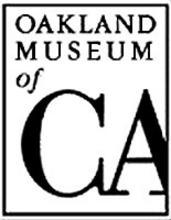 Oakland Museum of California
Where

1000 Oak St, Oakland , CA

Call

+1 510.318.8400

Contact

Web

Tags

Hours

Mon-Tue (closed)
Wed-Thu (11am-5pm)
Fri (11am-9pm)
Sat-Sun (10am-6pm)

About
The Oakland Museum of California (OMCA) brings together collections of art, history and natural science under one roof to tell the extraordinary stories of California and its people. OMCA's groundbreaking exhibits tell the many stories that comprise California with many voices, often drawing on first-person accounts by people who have shaped California's cultural heritage. Visitors are invited to actively participate in the Museum as they learn about the natural, artistic and social forces that affect the state and investigate their own role in both its history and its future. With more than 1.9 million objects, OMCA is a leading cultural institution of the Bay Area and a resource for the research and understanding of California's dynamic cultural and environmental heritage.

Admission
$15 general; $10 seniors and students with valid ID; $6 youth, ages 9-17. Free for children 8 and under and OMCA members. During Friday Nights @ OMCA, on Fridays after 5 pm, admission is half-off for adults, free for ages 18 and under. Admission is free on the first Sunday of each month.

Permanent Galleries

Gallery of California Art
As part of OMCA's recent transformation, the Gallery of California Art has been revitalized into a living, breathing space, pulsating with energy and ideas. Organized thematically, the Gallery is installed along three themes: California Land, California People, and California Creativity. This thematic approach allows visitors to see works in different media and from different periods side by side, inspiring new ways of looking at California's evolving role as a cutting-edge center of visual expression. Seminal works by artists such as Albert Bierstadt, Dorothea Lange, Richard Diebenkorn, Edward Weston, and David Ireland remain highlights of the art collection, but museum-goers can also count on making new and thought-provoking discoveries every time they visit.

Gallery of California History
"Coming to California" is the Gallery of California History's overarching theme, emphasizing the profound impact of the state's successive waves of immigration. Explorations of Californians' varied ethnicities, relationships with the environment, global connections, and dreams and aspirations also run through the 30,000-square-foot Gallery in interactive presentations that showcase more than 2,200 artifacts, works of art, photographs, and ethnographic materials, including a selection of California native baskets, Gold Rush era artifacts. California has always been a place of great diversity, and there have always been new people coming who have changed the culture. Whether your family has been here for generations or you arrived two weeks ago, the idea of coming to California resonates—because "coming to California" is both a geographic idea and a metaphorical one.

Gallery of California Natural Sciences
Showcasing a fresh focus on California's natural history, the reinstalled Gallery of California Natural Sciences presents seven places throughout California that depict the state's diversity of climate, geology, habitats, ecosystems, and wildlife, while exploring current research, contemporary issues of land use, environmental conflict, and conservation projects. Regions highlighted include: Oakland, the Sutter Buttes, Shasta, Yosemite, Coachella Valley, the Tehachapis, and Cordell Bank. At 25,000 square feet, the vast gallery space is the only museum presentation of its kind to showcase a collective portrait of California's rich biodiversity alongside human interaction with the natural world. Innovative displays present the fusion of world-class dioramas with emerging technologies, citizen science projects, and visitor contribution to tell the story of California's amazing natural world through the voices of local community members and the many scientists of these regions.