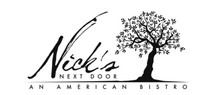 Nick's Next Door
Where

11 College Ave, Los Gatos , CA

Call

+1 408.402.5053

Web

Tags
About
Yes, Los Gatos is a ritzy Silicon Valley enclave that has Rolls Royce and Lamborghini dealerships across the street from each other and a median housing price greater than the GDP of some developing countries. But for all its trappings of wealth and exclusivity, L.G. is a friendly small town at heart where people greet each other on the street and are more comfortable in jeans and sweatshirts than suits and ties.
The city's spirit of upscale leisure extends to its taste in food and drink, too. While Los Gatos has its share of fancy, special occasion restaurants, it's the casual but refined places that seem to attract the most loyal followings. Veteran Los Gatos chef Nick Difu knows the city's appetites as well as anyone, and he has hit the mark with Nick's on Main, a relaxed but elegant bistro that's full of neighborly charm and is a showcase for his full-bore style of cooking.











Twitter
@KNBR House two for sure
@nilofer How do u feel about what the restaurants are doing?
@KerithBurke @annkillion Unbelievable!!! Another great example of what true leadership is..