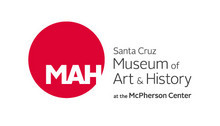 Museum of Art and History
Where

705 Front Street, Santa Cruz , CA

Call

831 4291964

Web

Tags

Hours

Mon (Closed)
Tue-Thu (11:00am-5:00pm)
Fri (11:00am-9:00pm)
Sat-Sun (11:00am-5:00pm)

About
This is our community. This is your museum.

The Santa Cruz Museum of Art & History at the McPherson Center (the "MAH") is located at 705 Front Street in downtown Santa Cruz. We are open Tuesday-Sunday, 11-5, and open until 9pm on Fridays. We host large-scale community events on the First and Third Fridays of the month in the evening, as well as ongoing exhibitions, programs, family festivals, and educational experiences.

Our mission is to ignite shared experiences and unexpected connections. We accomplish this mission when we bring people together around art and history through dynamic exhibitions, events, partnerships, and programs.

Our vision is to become a thriving, central gathering place where local residents and visitors have the opportunity to experience art, history, ideas, and culture. We envision engaged members and visitors who are increasingly passionate and knowledgeable about about contemporary art and local history that celebrate our diverse community.

Twitter
Calavera (skull) is a familiar symbol of Día de Muertos that represents the departed souls folks honor on their alt… https://t.co/Z6o7DUUrxq
As part of our re-imagined Día de los Muertos celebration with our partners at Senderos, watch local artist Evelyn… https://t.co/iazbtgNMv4
After reading about our educational resources check out our #TeacherSpotlight. Learn about Kenia Goicochea's experi… https://t.co/eQsMp6I39k