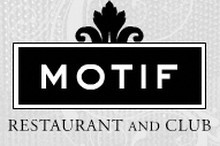 Motif Resturant & Lounge
Where

389 South First St, San Jose , CA

Call

+1 408.278.1888

Contact

Web

Tags
About
With two levels of dance floors (and bars) and a pristine ambience, Motif offers a mix of house, EDM and hip-hop, with the occasional live rapper performing. They have nights for the 18-and-over crowd twice a month (on Thursdays) and regular appearances from 49ers playmakers.

An eye-catching, light-bedazzled two-story venue with a full restaurant, two bars, DJs and an amazing glass installation comprising thousands of pieces of black obsidian. The entertainment defines the ultralounge style with splashy visiting DJs and a dress code mandating chicness.

Motif combines the best of both worlds in the San Jose restaurant and nightlife scene. Amazing food, unique décor, sexy ambiance & excellent music that's incomparable to any other venue in the area.


--------------------

World Cuisine. This San Jose restaurant and nightclub offers not only delicious, worldly cuisine, but it also hosts events on a weekly basis. Motif's modern décor and personal ambiance make it an enticing venue with an eclectic array of dishes from which to choose.


--------------------

A newer addition to the San Jose nightlife scene, Motif is a stunning two-story venue with a full restaurant, two bars, two DJs and quite possibly the coolest piece of art we've ever seen in a bar: a suspended glass installation of 7,000 pieces of black obsidian by an artist from London. The avant garde interior is daringly modern and unique, with light tricks and cutting-edge goodies around every corner. While the wickedly artistic stylings would most certainly be appealing to bohemian types, this tragically snazzy place rocks the whole ultralounge thing a little to hard with prices that could leave even a doctor's bank account in the red.