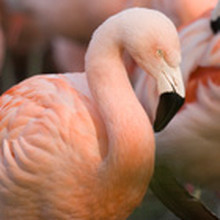 Monterey Bay Aquarium
Where

886 Cannery Row, Monterey , CA

Call

831 6476886

Contact

Web

Tags

Hours

Mon-Sun (8amto5pm)

About
The Monterey Aquarium was founded by Julie Packard from the family of HP in Palo Alto. To her benefit, she has established this organization as a world-reknown marine conservation aquarium like no other in the world. They have successfully put the Monterey Bay Sanctuary on the map of unique places to visit for marine life and their exhibits and collections rival most other aquariums.

AT THE MONTEREY BAY AQUARIUM
~~~~~~~~~~~~~~~~~~~~~~

Dive into stories of hope, meet fascinating animals in the aquarium's newest special exhibition; enjoy extended hours on summer weekends, Aquarium Adventures throughout the year.

The nation's No. 1 family aquarium continues to fascinate visitors with innovative new exhibits and animals from around the world as it opens its newest special exhibition, "Hot Pink Flamingos: Stories of Hope in a Changing Sea".

Visitors will gain a new perspective on global climate change by exploring its potential impacts on marine life – from tropical wading birds, green sea turtles and the colorful creatures that inhabit coral reefs, to hypnotic jellies, playful Magellanic penguins and other ocean animals.

It's one of many surprises that await visitors to the world-renowned aquarium.

The aquarium's most popular special exhibition to date, "The Secret Lives of Seahorses," will continue to captivate visitors with galleries that feature more than 15 species of seahorses and their kin – from leafy and weedy seadragons to alligator pipefish and yellow seahorses.

With a head like a horse, a snout like an aardvark, a pouch like a kangaroo, a prehensile tail like a monkey and the ability to change colors like a chameleon, seahorses are anything but ordinary. Visitors travel through four galleries housing one of the largest and most diverse exhibits of seahorses and their kin.

Seven galleries weave together stories about the different ways that climate change is affecting ocean animals. Each gallery will spotlight tales of hope involving people and communities that are fighting climate change and making a difference.

"At a time when there's no shortage of bad news about the state of the oceans, it's heartening to have things to celebrate," said aquarium Executive Director Julie Packard . "This exhibit highlights those stories of hope and success."

"It's important to remember that the oceans are incredibly resilient," she added. "Given a chance to recover, they can produce a remarkable abundance of life – much more than we see today."

Visitors are welcomed to "Hot Pink Flamingos" through a motif of iconic posters like those promoting national solidarity during wartime or to mobilize the public for social change. In this case, they identify the challenges of a changing ocean, provoking questions and empowering visitors to make a difference.

The 7,000-square-foot exhibition introduces visitors to living animals from around the world, and incorporates video and hands-on activities to address how our energy use creates carbon pollution. They also spotlight the effects of carbon pollution on the oceans: from rising sea levels and melting Arctic ice, to ocean acidification, warming waters and disappearing food. Still, the overall message of "Hot Pink Flamingos" is one of hope.

In the "Under Water" gallery, visitors come face-to-face with five-foot-tall gangly Chilean flamingos, scarlet and white ibises, striking roseate spoonbills, cattle egrets and other wading birds, and discover how rising sea levels affect coastal wetland habitats. An interactive map illustrates what the impacts would be on cities around the world.

In the evocative "Acid Ocean" gallery, visitors encounter a healthy coral reef community bustling with exotic fishes, ornate sea anemones and other animals. The 10-foot-long reef showcases the textures, colors and motion of living corals, as bright yellow butterfly fish, tangerine-hued anemone fish and other species dash about the reef.

Nearby, in a realistic coral "graveyard," an animated video illustrates the gravest threat the oceans face from climate change: acidification that is changing ocean chemistry, putting corals and other marine life at risk. Here, visitors get a glimpse into cutting-edge technology that scientists at the Monterey Bay Aquarium Research Institute (MBARI) are using to monitor the changes.

"World of Change" highlights countries and cities that have set goals for reducing carbon pollution and that are cutting their carbon footprint in creative ways. Interactive panels take visitors to Costa Rica , where taxes pay for forest conservation; to New Zealand, where an airline is using fuel made from plants; to Iceland , where 80 percent of their energy comes from hydropower and geothermal power; and to San Francisco, Chicago, Paris, Bihar, India and other model cities that are leaders in the climate change fight.

Similarly, "Hope Taking Root" shares stories of local actions that are making a difference – and provokes visitors to think about what they can do at home to slow the climate crisis.

In other galleries visitors will meet tropical spotted jellies, young green sea turtles, playful Magellanic penguins – including climate "refugees" from Brazil – and other amazing wildlife that help illustrate the impacts of climate change on their ocean homes.

Scattered throughout the multimedia galleries, visitors will find talk-back stations where they can share their concerns, opinions, thoughts and feelings about the climate crisis, and can pledge to do their part. To complement their "Hot Pink Flamingos" voyage, the aquarium has created a new 15-minute theatrical presentation and a short, educational program on climate change presented in the auditorium.

"Hot Pink Flamingos: Stories of Hope in a Changing Sea" offers many reminders that we all belong to this Earth, are responsible for taking care of our home – and that we can solve the climate crisis by making little changes on our own and big changes together.

Through engaging exhibits, ongoing conservation outreach and research programs the aquarium will continue to inspire ocean conservation throughout 2010.

In addition to special exhibitions, the aquarium's acclaimed permanent exhibits include playful sea otters; a towering three-story kelp forest; touch pools and other hands-on exhibits; the award - winning Splash Zone: Ocean Homes family galleries; and a million-gallon Outer Bay exhibit, home to sharks, tuna, ocean sunfish and other open-ocean animals.

There are daily feeding shows in the Kelp Forest and sea otter exhibits, as well as daily auditorium programs featuring high-definition video clips that take visitors into the deep sea and waters around the world to learn about sharks, jellies and otters.

Elsewhere visitors can explore the deep sea in the aquarium's "Mission to the Deep" exhibit. Through large, multi-screen presentations and interactive displays, "Mission to the Deep" invites visitors to join researchers from the Monterey Bay Aquarium Research Institute as they photograph deep-sea animals, map vast undersea mountains and monitor animals that colonize a sunken whale carcass.

A full lineup of Aquarium Adventures programs will kick off the summer of 2010, including sailing excursions, behind-the-scenes tours and children's SCUBA diving in the Great Tide Pool.

Throughout the year, popular behind-the-scenes tours continue in 2010, giving visitors the opportunity to learn other secrets about the aquarium. Visitors ages six and up can participate in a guided 50- minute tour and find out what it takes to care for animals and exhibits at the aquarium. These dynamic tours will be offered several times a day for $12 per person for the general public and $10 per person for members. An expert guide, state-of-the-art headset technology and explorations that take you to where the day's action is most intriguing, make this a must-see addition for repeat as well as first-time aquarium visitors. Space is limited and – while drop-in slots are usually available – advance purchase is recommended.

General admission tickets, as well as behind-the-scenes tour tickets, are now available online at www.montereybayaquarium.org. There's no service charge to print tickets at home or pick them up upon arrival, and just a small fee to receive tickets by mail. Either way, advance tickets are a great way to avoid ticket lines on busy days.

Also in summer and back by popular demand are extended weekend hours during "Evenings by the Bay." Each Saturday and Sunday from July 4 through September 5 visitors will have two additional hours – until 8 p.m. – to enjoy "Hot Pink Flamingos" and everything else the aquarium has to offer. The evenings include live music and an opportunity to have dinner in the ocean-view Portola Restaurant.

The Monterey Bay Aquarium, acclaimed as one of the world's finest, has attracted more than 46 million visitors and has won national awards for its permanent and special exhibitions, its architecture, and its cultural, educational and economic impact.

"Hot Pink Flamingos: Stories of Hope in a Changing Sea" is included with regular aquarium admission of $29.95 adult; $27.95 senior (65+) and student (full-time college, with I.D.); and $17.95 children 3-12 and the disabled (2010 prices). Children under 3 are admitted free of charge. Discounted tickets for members of the military and their families can be purchased in advance at many California and Nevada installations.

The aquarium is located on historic Cannery Row in Monterey. The aquarium is open daily except Christmas Day. Hours of operation vary by season.

Daily schedules are available online at www.montereybayaquarium.org or by calling (831) 648-4888.

More information on aquarium exhibits and programs is available online at www.montereybayaquarium.org or by calling (831) 648-4888. Advance tickets can be purchased online or toll-free by phone from the aquarium at (866) 963-9645.

Seasonal specials, details about special events and programs, family activities and live web cams can all be found online at www.montereybayaquarium.org.

The mission of the Monterey Bay Aquarium is to inspire conservation of the oceans.


First Image: Pink Flamingos -- Pink Flamingo's-Stories of Hope in a changing Sea is opening this spring 2010 for visitors to the aquarium.