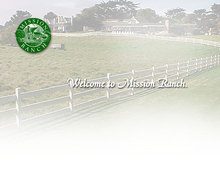 Mission Ranch Resort
Where

26270 Dolores St., Carmel-By-The-Sea , CA

Call

1.800.538.8221 or 1.831.624.6436; Fax: 1.831.646.4163

Web

Tags
About
Mission Ranch, built in the 1850s, has a peaceful ambiance, with acres of landscaped grounds and views of hillsides, sheep-filled meadows and the Pacific Ocean. There are 6 tennis courts, a fitness facility and Pro Shop and a wonderful restaurant on site. Dramatic views of the Carmel River and Point Lobos. The Piano Bar entertains nightly and their Sunday Jazz Brunch has become a Carmel tradition.

This historic ranch occupies one of the most spectacular spots on the Monterey Peninsula. The exquisite views are unrivaled: meadows stretch to the south, joining the wetlands and the Carmel River Beach. Point Lobos can be seen in the distance across the bay. And newly planted gardens adorn the entire Ranch.

The setting is perfect for a classic wedding and reception, or any celebration. Group events are a specialty: the Patio Barn accomodates 50-110 and the Large Barn accomodates 180.

Owner, Clint Eastwood can be seen on some week nights at the piano bar enjoying local jazz or even joining in on musical numbers. His personal touch on this fine resort can be seen in every detail of this renovated beauty. Be sure and have a drink on the patio at sunset and watch the sheep graze in the meadows and look out over the unobstructed view to Carmel River Beach and beyond. One of the most beautiful and romantic places on Earth!