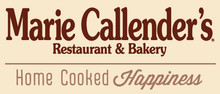 About
Lunch Specials - $7.99 (Monday-Friday 11a-4p)

Happy Hour Mon-Sat 3-7pm (offered in the dining room too!)
Happy Hour All Day on Sundays (9am-9pm)

Mondays - All Day Get 20% off* entire your bill when you bring a student with a valid student ID card. *Student must be present. One (1) offer per table. Cannot be combined with other offers or coupons. Mondays only.

Tuesdays - Get $2 Off Any Burger. Cannot be combined with other offers or coupons.

Kids Eat FREE* on Tuesdays (all day - *requires a purchase of an entree)

Friday & Saturday - $22.99 Prime Rib served at 4pm (Limited - first come first serve)

All You Can Eat Sunday Brunch Station (9am-2pm)

Marie's commitment to freshly prepared foods using only the highest-quality ingredients still endures. Marie Callender's serves up a wide variety of classic American foods updated with today's flavors, including our signature Famous Pot Pies, Freshly Roasted Turkey Dinner, St. Louis Bourbon BBQ Ribs and Gorgonzola, Pecan and Field Greens Salad.

At Marie Callender's in Sunnyvale we are dedicated to excellence..

Home-made soups and sauces from our kitchen

Light & Flakey crusts, fruit filling, creams and pies made in-house daily from scratch

Adding value to every plate with larger pie slices and soup or salad included with dinner entrees

Local award winning bakery Le Boulanger delivers fresh bread everyday

Visit our Blossom Hill, and Morgan Hill locations too!
Twitter
Don't forget the Halloween Treats! Halloween is the last day of Pie Sale, so get your pies starting at just $8.99… https://t.co/7CDtWHgIa2
Just four days left for the Pie Sale - which pies are on your lineup this week? Whole pies to-go starting at 8.9… https://t.co/OIkxKwXZY4
Just 10 days left for Pie Sale! What flavor are you picking up next? Whole pies to-go starting at 8.99 (plus tin). https://t.co/EcGYchuizw