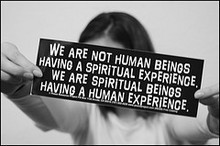 Maria Haswell - Psychic Medium, Spiritual Councelor, Reiki Master/Teacher, Osho Zen Tarot
Where

21001 San Ramon Valley Blvd., San Francisco , CA

Call

+1 877.542.1192

Contact

Web

Tags

Hours

Mon-Wed (10am-5pm)
Thu (Closed)
Fri (10am-5pm)
Sat-Sun (Closed)

About
There are three basic questions at the core of what I do.


Does the mind/soul exist separately from the brain?


Can being in a meditative state help you heal?


Do energy fields exist?


For me, the answer to all three of these questions is, "yes." Now just because I believe this, I don't think that you should. A belief is a subjective view point.

I'm guided by my spirit guide to pursue my life calling and help people in the best way I can. I have been led to learn different methods to teach, heal, and serve with the highest intention. I offer a number of services, and I hope that I can help you. To set up an appointment, please contact me.





Spiritual Medium
As a spiritual medium, I can help you get messages from your loved ones on the other side. I feel that it's important for everyone to know that their loved ones are still "alive" – they are still with you, and they live on.

Reiki Master/Teacher
Reiki (ray-key) is a Japanese form of energy work. Reiki promotes deep relaxation and releases blockages within the physical, mental, emotional bodies. I offer Reiki treatments and also teach Reiki. Please go to my Resources page for my Reiki Master/Teacher referrence.

Osho Zen Tarot
Osho Zen Tarot brings a different level of understanding to a reading. The cards speak to you with such beauty and peace and really are able to get beneath the surface of the question for a very insightful reading.