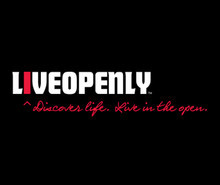 LiveOpenly.com
Where

27 Maiden Lane, San Francisco , CA

Call

+1 415.830.9298

Contact

Web

Tags
About
Where The Fabulous People shop

About LiveOpenly
LiveOpenly is a curated marketplace for the been there, done that crowd - those looking to experience more out of life. LiveOpenly invites you to live in the moment, discover something new, and indulge yourself. Our focus is on delivering quality and service. We feature local, upscale restaurants, boutiques, fine dining, luxury getaways, health and fitness, spas, entertainment and more.

Quality

LiveOpenly specializes in curating quality, experience-based offers for our customers. When you shop with LiveOpenly you can be assured that our merchants will meet your expectations. LiveOpenly has high standards so you can enjoy yourself and leave the rest up to us.

Service

Excellent service is a LiveOpenly priority. We do all we can to ensure our loyal customers and merchants have a rich experience, but if a feature does not meet your expectations we will make it right. LiveOpenly appreciates your business and your feedback.

The Experience

Join our online community of thriving, open-minded individuals looking to get the most out of life. No matter what your cultural background, religious beliefs, or sexual preference, our online community welcomes you to discover your passion. Which experience fits your lifestyle?

Social Responsibility

LiveOpenly is a socially responsible member of the local community. LiveOpenly gives charity organizations a platform to spread the word about their fundraisers in support of their cause, free of charge.

Interested in getting involved? Check out the featured organizations to see which opportunity is the right fit for you. Have a worthwhile cause you'd like to recommend? Visit our Contact Us page. Who says being fabulous can't save the world?