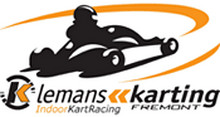 Lemans Karting
Where

45957 Hotchkiss St, Fremont , CA

Call

510 7709001

Web

Tags
About
Whether seeking the perfect family destination, corporate party event venue or just a fun place to go with friends, nothing could be better than the exhilarating moments between the green and checkered flags of LeMans Karting. Since the grand opening in 2002, LeMans Karting in Fremont, CA has been one of the Bay Area's most thrilling destinations for heart pounding go-kart action that the whole office or family can enjoy. LeMans is home to the widest and fastest Bay Area go-kart track; enthusiastic fans even voted LeMans as the "Best Extreme Sports Company" in the area. Designed by professional racers, the 20 foot wide track spans 22,000 square feet, presents a challenging course and offers the best bang for any buck in South Bay entertainment.


Put the Petal to the Metal for Less!
LeMans Karting wants to make sure that everyone can afford to get their hands on the wheel with these great special deals:

Triple Play Deal – Purchase three $20 Time Trials and only pay $45.

Full Throttle Thursdays – $60 Combos for only $40.

Student and Military Discount – $5 off standard MEMBER racing.

Party Special – With parties of 10 or more, every 10th driver races for FREE! Perfect for last-minute company parties and family get-togethers. Public sessions only.


Memorable Corporate and Team Building Events
LeMans Karting in Fremont is an all-event facility catering to groups of all ages. Product launches, employee appreciation parties, interactive executive meetings and even holiday parties can be celebrated at this unique venue. For larger groups, this Bay Area go-cart facility can accommodate upwards of 100 drivers. There is also a racing-themed meeting room that overlooks the racetrack and can seat up to 30 people.

The importance of team building is well known in any realm of the corporate world, but it's also key for sports teams and community groups. LeMans Karting provides a unique environment for group interaction and competitive excitement. The fun and friendly staff at LeMans will help to make sure events are fun for everyone involved. Groups can customize their event with an awards ceremony, use of the conference room, interactive games, catering and more. LeMans Karting also offers the Racing Limo Service, allowing attendees to arrive in style in a state-of-the-art, racing themed limo!

Now is one of the best times to provide a thrilling experience for employees everywhere. Many companies had to take the frugal road and cancel holiday parties or put a hold on raises last year, but with economic conditions improving, now is the time to treat staffers to the holiday party they missed or celebrate with them in thanks for their patience in bearing through the hard times together. Though many businesses are still struggling, now is the best time to schedule something exciting to boost employees' morale by treating them to a well-deserved group function. This is also the time to organize something fun for a community group and show appreciation for their commitment through the difficult times and to inspire continued commitment through the bumpy times that may still come. To help businesses and groups raise spirits throughout their employees and members with cost-effective excitement, LeMans is running various promotions to make team-building events an affordable option for everyone.

Birthday Parties and Sports Team Celebrations
LeMans event facility near San Jose is great for hosting an exciting celebration. The facility that overlooks the entire racetrack is playfully decorated with race flags and memorabilia, offering a fun setting for birthday groups or sports teams to enjoy while not on the track. The track is available for private booking on a per-hour basis, ideal for larger parties who want to make sure that everyone gets their share of racing. LeMans offers birthday party packages and sports team packages that include race time, pizza and beverages.


Planning a Party or need an Exciting Gift?
Let LeMans Karting add a little thrill to the year with specials and great gift ideas!

Private Party Special – One Combo Package (Time Trial, Qualifier and Sprint Race) for all participants, pizza & drinks for only $50/driver! Private Party Room included. Normal price is $75/driver without food. For parties of 10-100 drivers.

The Gift of Speed – Gift Certificates are available over the phone or at the facility.

Go Kart Racing Excitement In the Bay Area
Racers young and old are sure to love peeling around the corners in the 9-horsepower go karts, reaching exciting, yet manageable, speeds of up to 40 mph. LeMans puts every racer behind the wheel of the Bowman Storm, a European-engineered high-performance go-kart that responds quickly to both the throttle and the brakes and features a well-balanced body that handles like a dream.

The only thing more important to LeMans Karting than heart pounding excitement is safety. Each driver is supplied with a DOT approved full-face helmet, a driving suit, gloves and a neck guard, and closed toe shoes are mandatory. Adults must produce a valid drivers license and attend the full safety briefing before climbing behind the wheel, and unlicensed drivers ages 13 to 17 are required to have a parent present to sign the Minor Release Form and attend and pass the informative Juniors Racing Program. A full professional staff mans the track at all times, and there is always at least one First Aid trained staff member.

League Nights
Improve skills, meet new friends and race other drivers by joining one of LeMans seasonal go-kart racing leagues. For racers of all ages, the league formats feature endurance races, heats competitions and sprint races. Every Sunday night, the Sunday Night Heats Competition is available for white-knuckle racing against some of California's most enthusiastic go-kart racers. Warm up with a few practice laps before hopping in the fast lane, then try to beat other drivers in a fast and aggressive, yet fun and friendly, heat. Tuesday night Team Endurance competitions are great for true racing fans and those seeking the best value.