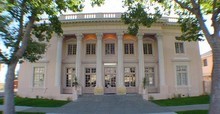 Le Petit Trianon Theatre
Where

72 North 5th Street, San Jose , CA

Call

+1 408.995.5400

Contact

Web

Tags
About
Enjoy the unsurpassed acoustics of the historic Trianon Theatre at 72 North 5th Street in downtown San Jose. Built in 1923 as an adaptation of the oft-replicated Petit Trianon in Versailles, the building today is home for many of San Jose's arts groups and is a magnificent, intimate space in which to experience live performance.

In addition to serving as a performing arts venue, the building also houses 20 executive business suites and elegant spaces for meetings as well as corporate and private events.

In the evening and on weekends, this building with its six grand columns becomes Trianon Theatre, a center for the performing arts. The theatre is currently used by over 50 performing arts/cultural groups and attracts more than 20,000 patrons annually. Among the numerous performing arts groups routinely performing at Trianon Theatre are San Jose Chamber Music Society, San Jose Chamber Orchestra, Steinway Society The Bay Area, South Bay Guitar Society, Mission Chamber Orchestra, San Jose Youth Chamber Orchestra, and Music Teacher Association of California Student Concerts.

History

Reminiscent of the Grand Trianon and Petit Trianon on the grounds of Versailles near Paris, both acclaimed for their artful expression of sublime simplicity; in French and Spanish the word suggests a special place, pleasant surroundings, beauty and balance.

Built originally as a house of worship for the Christian Assembly by accomplished architect, William Binder, in 1923, the theatre's main auditorium possesses excellent acoustics, an antique organ and seats approximately 350. Binder took inspiration for design of the building from Le Petit Trianon, the miniature chateau on the palace grounds of Versailles, which was built in 1761 for Madame de Pompadour, favorite of King Louis XV. The building has been said to be the best example of classic architecture in the city and still looks exactly as Binder designed it in 1923.

Design and Functionality

This building is two stories in height and rectangular in layout. It is situated on an interior parcel with additional associated parcels adjacent and near to the site used for parking. The building is constructed with reinforced concrete, finished with smooth plaster surfaces and articulated with classically inspired detailing. Symmetrical in elevation at the exterior, the interior plan is offset, with a large auditorium (initially used as the sanctuary), two-stories in height, located on the left (north) side of the building behind a reception area. The Main Theatre is nicely appointed and makes an excellent hall for concerts, films, and other events. To the right (south) of the large auditorium is a smaller auditorium that is one-story in height. Both auditoriums have sloping floors, fixed seats, and stage areas. The Main Theatre stage area contains proscenium, although the functional layout is not intended for traditional theatre with off-stage support, but rather provides architectural focus for the protruding stage apron. A hall separates the two stage rooms.

The reception hall is centrally located behind an entry vestibule and contains a large hearth and fireplace. Formal staircases flank the entry, which lead to a balcony that circles the reception area at the second level. Accessible from this balcony are several executive business suites, as well as a large meeting room that can accommodate up to 150 people located above the smaller auditorium.