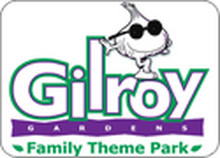 Gilroy Gardens
Where

3050 Hecker Pass Hwy, Gilroy , CA

Call

408.840.7100

Web

Tags
About

Horticultural Theme Park Sparkles with 18 Days of Holiday Fun

For an extended 18 select evenings through December 23, Gilroy Gardens will be the only Bay Area theme park open for holiday season entertainment. The park will sparkle with millions of dazzling lights, an all-you-can-eat holiday feast, ice skating under the stars at Gilroy's only ice skating venue, holiday themed rides and visits with Santa. New in 2006, guests will be treated to a spectacular, all-new "Home for the Holidays" parade at 8:30 p.m. nightly.

19 Rides — 27 Attractions — 6 Majestic Gardens
Unique among theme parks, Gilroy Gardens offers something for every member of the family—rides, attractions, theme gardens, food concessions, an event plaza, and some very unusual trees.

Nineteen one-of-a-kind Circus Trees, most more than 50 years old, were rescued from the Tree Circus in Scotts Valley to become a main attraction at Gilroy Gardens. The park was designed to educate guests and to foster a greater appreciation of horticulture. Gilroy Gardens features over forty rides, attractions, educational exhibits and majestic gardens.

Event Planning with Bonfante Gardens
The Gilroy Gardens staff has a 20-year tradition of serving up the finest picnics in Silicon Valley. Certainly the perfect setting for small company, club or organization summer meetings.

Group Visits
Gilroy Gardens Family Theme Park is a wonderful place to bring your extended family, club, organization or just a group of friends.

Wedding Venue
Dreaming of a beautiful garden wedding, complete with gorgeous flowers and plants and the serene sounds of a creek or waterfall in the background? Gilroy Gardens, Gilroy, CA. offers a unique wedding setting for the king and queen of the day. Choose from Claudia's Garden, Creekside Terrace and the Event Plaza.

Corporate Programs
Book a group of 50 or more in the tree-laden South County Picnic Grove. Groups can mix, mingle, eat and then be off for a great afternoon of fun in the theme park.

Business Meetings
Private meeting facilities include a receiving/sitting room, conference room, breakout rooms and an outside patio meeting area.

Birthday Parties
The Gilroy Gardens Birthday Party Package includes discount admission to the park, full use of the private decorated patio for three hours, and an All-You-Can-Eat meal including Hot Dogs, Macaroni & Cheese, Chips, Soda and a birthday cupcake. Sorry no outside food or cakes.

Camp Nights
Experience camping in an exciting and safe environment combining the beauty of magnificent gardens with the appeal and excitement of a traditional family theme park. This event includes a wonderful camping facility, admission to Gilroy Gardens, special Camp Night patch, a docent talk and educational activity and a Camp Night Showcase!

Jr. Horticulture Day
In 2004, Gilroy Gardens Family Theme Park introduced the first Junior Horticulture Day. Under the guidance of countless community members, teachers and volunteers, Junior Horticulture Day was created to offer students the opportunity learn and experience first hand the importance trees and plants play in everyone's daily life.

Play in the Gardens
Looking for the perfect place to hold the next concert, recital or dance production? Gilroy Gardens is proud to present Play in the Gardens! The Play in the Gardens package provides any group with a built-in audience, a 1/2-hour time block, modest dressing room, plus a day of fun at Gilroy Gardens.

------------------

2009 BEST OF SILICON VALLEY Reader Survey Winner - First Place



Best Theme Park

Where else can one take flight under the cap of a colossal mushroom, spin in a giant strawberry, twirl in enormous garlic bulb, ride a huge artichoke or swing in a big banana? Gilroy Gardens is a place for kids and their parents to enjoy rides, food and fascinating foliage under the sun. Originally owned by the Bonfante family, the attractions include six spectacular gardens with unusual landscape architecture, circus trees, rare topiaries and colorful flowerbeds. (JF)

2009 BEST OF SILICON VALLEY Reader Survey Winner - Second Place

Best Local Festival

In 2001, the Bonfante Gardens Family Theme Park opened for its inaugural season as California's only horticulture theme park!