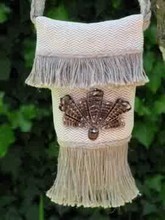 GillyBean Creations
Where

P.O. Box 5571, Carmel-By-The-Sea , CA

Call

8312777537

Contact

Web

Tags
About
This beautiful handbag is 7 " x 8 ", handmade from 50% hemp and 50% flax fabric in a beautiful herringbone pattern and embellished with stunning, center-cut telescope seashells. It is a one-of-a-kind.... no 2 GillyBean Creation bags are the same! The inside of the bag has a custom made label, and each bag comes with an edition and bag number, guaranteed to be a one-of-a-kind by GillyBean Creations!

As a fabric, hemp provides all the warmth and softness of a natural textile but with a superior durability seldom found in other materials. Hemp is extremely versatile and can be used for countless products such as apparel, accessories, shoes, furniture, and home furnishings. Apparel made from hemp incorporates all the beneficial qualities and will likely last longer and withstand harsh conditions. Among the characteristics of hemp fiber are its superior strength and durability, and its stunning resistance to rot.

Flax has been used as a fiber since 8,000 BC, making it one of the oldest fabrics in history. Known for it's durability and neutral color, it is cool to the touch, yet extremely durable, softening with age and use as hemp will also do.

Any stains on a GillyBean Creation handbag can be washed in cold water very gently with Eco-Friendly washing products.

You will love owning your one-of-a-kind GillyBean Creations handbag...they are specially designed for women like you who want the best in something unique and special!