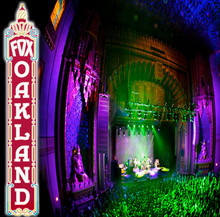 Fox Theater - Oakland
Where

1807 Telegraph Avenue, Oakland , CA

Call

+1 800.745.3000

Web

Tags
About
After closing its doors in 1966, the Fox Theater re-opened in February of 2009. The $75mm multi-use renovation project features a state-of-the-art theater with flexible capacity from 1,500 to 2,800. The multiple seating configurations include general admission, cabaret style seating, and reserved seating.

The theater itself now serves as the flagship live music venue for Another Planet Entertainment, well known for bringing outstanding live entertainment to the Greek Theatre, The Independent, Paramount Theatre, Oracle Arena and other popular Bay Area venues. Another Planet Entertainment also produces both the Outside Lands Music & Arts Festival and Treasure Island Music Festival.

The theater's wrap around building is the permanent home for the Oakland School for the Arts, a tuition-free charter school dedicated to artistic and academic excellence. The Fox Theater is located in the absolute demographic center of the Bay Area (population 7.5 million). The Theater is the centerpiece of the revitalized Uptown District section of Oakland that features fine dining, a thriving nightlife, and 2,000 new residential development units.

The Fox Theater is located within a half block of BART (Bay Area Rapid Transit) and only a 12-minute train ride from San Francisco and a 9-minute train ride from Berkeley. The Fox Theater, The Greek Theatre at U.C. Berkeley, and Oracle Arena in Oakland lie within 6 miles of each other.

Thanks to the City of Oakland, former Mayor Jerry Brown, California Capital Group and the Friends of the Fox for converting a theater in disrepair in 1996 into a world class theater today in 2009. The Fox Theater would not have had a second life without their dreams and expertise.

And most of all a special thanks to Phil Tagami, who best exemplifies the spirit of community, leadership, and excellence without whom this project, The Oakland School of the Arts and the Fox Theater, would never have seen the "the light of day". "Phil is what is needed in Oakland. A citizen and a developer with a soul. Phil is the type of unsung member that looks out for the greater good in society and has a vision to see it through" according to Gregg Perloff, Another Planet Entertainment CEO.

Brought to you by your friends at Another Planet Entertainment.

Twitter
congrats on the grammy nomination @brothersosborne 🏆🏆🏆 can't wait for the live show to hit Oakland on Sat, 3/30!… https://t.co/Py0KWcf6AI
RT @iamlp: 'Heart To Mouth' is finally here!! I'm beyond excited to share it with you and I hope you love it. Go check it out!! 🧡🧡🧡 https:…
a few tickets left for @ShakeyGraves TONIGHT! w/ special guest @kolarsmusic 👉 https://t.co/ztIAQM7Kyd https://t.co/ANjxZerXju