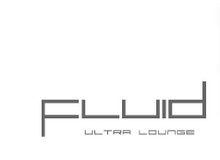 Fluid Ultra Lounge - CLOSED
Where

662 Mission St, San Francisco , CA

Call

415 6156888

Web

Tags
About
Fluid is redefining San Francisco nightlife. It is the first nightspot to provide a relaxing bar and lounge that transforms into a pulsating nightclub. Fluid infuses sophisticated chic with its décor, service, and music for a combination that is simply unavailable anywhere else.

Fluid is a breathtaking venue with a stylish modern interior that combines simple, classic details with state-of-the-art technologies. It features a one of a kind, computer-generated lit walkway that creates infinite color and patterns and a dramatic, glowing bar.

The striking, white, Louise Nevelson inspired walls create a bright, airy space with light continuously dancing on the lacquered panel-mirror mosaics.

Off the dance floor is a velvet-draped VIP Lounge done entirely in cobalt blue where guests can gather in cozy niches. Filled with lounge seating, from black suede sofas to innovative "ghost" Philippe Starck chairs, no details have been overlooked in the ultimate upscale experience.

Created by Orlando Diaz-Azcuy Designs, Fluid is the ultra lounge for those who enjoy the elegant, beautiful, and exciting.