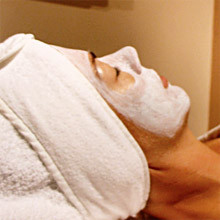 Face Forward Skin Care
Where

1610 Blossom Hill Rd., Suite 3, San Jose , CA

Call

+1 408.512.2382

Web

Tags
About
A simple philosophy that healthy skin is not a luxury but a necessity to be enjoyed by everyone is the ruling force of Face Forward Skin care in San Jose. Their simply appointed offices are warm and pleasant, with sparingly applied elegant touches to create a naturally luxurious atmosphere where wellbeing is the focus.

View Coupon for Face Forward Skin Care

A small upscale day spa in the South Bay, Face Forward evidences their commitment to making healthy skin and happy, relaxed bodies available to everyone with full menu of treatments. Body treatment options at Face Forward Skin Care begin with an anti-cellulite treatment that combines the benefits of PhosphaSlim and LED light therapy to treat the root causes of cellulite and promote reduction. Massage treatment options include Swedish massage, structural/deep tissue massage that incorporates energy and breath work, and side-lying massage to promote comfort and relaxation for pregnant women or anyone with injuries that prevents them from lying prone.

This South Bay skin care office features an array of skin care solutions for everything from rejuvenation needs to acne. There are several different facial options, including an express facial for those with limited time and a "special event" facial to help clients prepare for upcoming events like weddings. Additionally, they offer chemical peels, microdermabrasion, post surgical masks to help reduce swelling and edema, and waxing treatments for the full face and body. Face Forward Skin Care embraces the latest advances in light therapy treatments for the finest skin rejuvenation benefits, including tightening and lifting of the neck and jaw line, softening of expression lines, lifted eye lids, and overall improvement of facial contour.

At all times, the expert staff of this San Jose skin care and wellness center maintains a warm and professional attitude, and they will happily create personalized skin care treatments and regimens to address specific concerns, giving each client the confidence to put their best face forward.