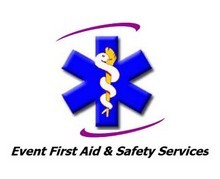 Event First Aid & Safety Services
Where

201 G Street, Antioch , CA

Call

+1 925777.9924

Contact

Web

Tags
About
Event First Aid & Safety Services provides first aid coverage for your special event. We are at www.eventfirstaid.org . We provide EMT's for special events and our rates start at $25.00 per hour per EMT. Check us out we may be able to help you out with First Aid stations.


On site medical coverage!

Event First Aid & Safety Services is owned and operated by industry professionals, with over 33 years of experience and extensive training in emergency medicine and major event management through out California. Based in Antioch California, we serve the Bay Area. At Event First Aid we provide the highest standard of event medical services and risk management for your special Event or training needs. Our management team - all practicing healthcare professionals - work in partnership with our clients to ensure that our services adapt dynamically to the changing needs of their patrons, participants, and employees. Event First Aid is committed to providing top quality, pro-active, professional medical personnel to staff events of any size or nature for an affordable price. We can provide the right First Aid medical services to bring your event safety and peace of mind. When large crowds gather for public events you need first aid coverage to ensure everyone's safety and well being. Our EMT's are trained in first aid and lifesaving skills. In the event of an accident or illness, our EMT's skills are vital in preventing further harm and saving lives. They provide essential support until the local 911 provider can arrive. Locally and privately owned, Event First Aid Services tailors all of its programs and services to meet its customers' and patients' specific needs. We are not a Ambulance service & we do not provide AED's. If ambulance service is needed during your event our staff will call the local 911 provider for paramedic services. And continue to provide the best first aid services until the 911 provider arrives.