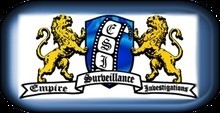 Empire Specialized Investigations
Where

101 California Street, Suite 2450, San Francisco , CA

Call

800.830.7030

Contact

Web

Tags

Hours

Mon-Fri (7A.M.-6P.M.)
Sat (9A.M.-5P.M.)
Sun (CLOSED)

About

Specialized Professional Investigative Services
Throughout the State of California
Surveillance | Asset Searches | Skiptrace | Process Services
(800) 830-7030 or (949) 645-1492
Visit or web site: http://www.ESI-Subrosa.com

ESI is specialized in all aspects of surveillance: infidelity surveillance and investigations, asset searches all 50 states, family law issues custody monitoring and high risk services; business investigations embezzlement and dishonest employees. We are fully insured as a private investigator and bonded as a process server.

ESI has a proven track record of 13 years conducting insurance investigations with established clients in Los Angeles County and Orange County while offering the same level of professional expertise and performance to private clients. Our investigations are custom tailored to each client particular needs and requests and all Investigative services are confidential.


Process Servers: provide Service of Process by California Registered Process Servers. Our staff is extremely professional and highly trained to complete all aspects of Civil or Federal Service. ESI also provides additional services for defendants and respondents that are avoiding service through unusual means; defendants that have been extremely evasive and hard to serve.

Services ESI Provides:
- Surveillance (Infidelity/Family Law Issues/Civil/ Workers' Comp)
- Surveillance Hidden Cameras
- Attorney Services
- Background Checks
- Business Investigations
- Locate Hidden Assets
- Locate Missing Persons
- Witness Statements
- Child Custody Monitoring
- Family Risk Services
- Insurance, W/C Fraud, Subrosa, AOE/COE, subrogation
- GPS Tracking Individual/Business Vehicles
- Pre-employment Screening
- Infidelity Investigations
- Skip Tracing

Mission Statement
ESI was founded on specific principals and the premise that it will provide professional and ethical services. The fundamental promise to our clients is to present all investigation services with professionalism and the highest integrity possible as well as a dependable work ethic. Our most important components in the goal of helping employees make the right ethical decisions are done through formulating a set of ethical guidelines for our staff. Combine these qualities together with the persistent determination of a firm, driven to obtain results as will as the personal service. ESI is committed to accuracy and supervision that is found in much smaller companies. Providing Service in these City's and Counties in San Francisco, Oakland, Daly City, South San Francisco, San Jose, Fremont, San Francisco County, San Joaquin County, San Benito County, Santa Clara County, San Luis Obispo, San Mateo County, Sacramento County, Sonoma County, Napa County, Yolo County, Yuba County

Specialized Professional Investigative Services in these Southern California City's Orange, Newport Beach, Anaheim, Irvine, Costa Mesa, Orange County, Los Angeles County, Riverside County, San Diego County, Santa Barbara County, San Bernardino County, Ventura County.