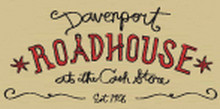 Davenport Road House Restaurant & Inn
Where

1 Davenport Ave, Davenport , CA

Call

+1 831.426.8801

Contact

Tags
About
The Davenport Roadhouse Restaurant and Inn is located at 1 Davenport Avenue in Davenport, California. We are nestled 100 yards from the ocean in a hamlet of artisans, organic farms, boutique vineyards, and over 7,000 acres of pristine state parks and beaches.

Our Vision is to create a warm expression of the beauty, bounty and artisanship of Davenport and the Santa Cruz Mountain region for all to enjoy.

Much more than a restaurant and Inn, The Davenport Roadhouse offers an array of fun and relaxing activities whether your are staying or just visiting for the day. We offer public and private wine tours, on-site massages, and our Meet the Winemakers series which is a local favorite.

Twitter
We offer fun and affordable Wine Tours. Check out thesantacruzexperience.com for more information!
Don't forget, we're an inn, too! We've got great rates for guests. Be sure to stay with us the next time you breeze though California!
Fun food fact: The ancient Egyptians thought onions kept evil spirits away. When they took an oath, they placed one hand on an onion.