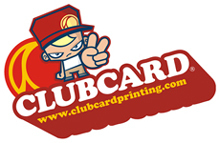 Clubcard
Where

2275 Market Street, #7, San Francisco , CA

Call

4158651930

Contact

Web

Tags

Hours

Mon-Fri (10am-6pm)
Sat-Sun (Closed)

About
A NEW WAY TO PRINT - LOCAL!

CLUBCARD

San Francisco's Graphic Design and Print Shop.

We began printing in 1994 in Vancouver, Canada and we're excited to be part of the local community with our new shop now open at 2275 Market Street.

We're About Quality
We produce the world's finest quality offset printing at 380 lines of detail per inch utilizing stochastic random dot computer to plate screen technology.

We're about service
On the phone, on-line or in person we're here to help. Bring in your file and we'll produce a proof on the spot while you explore our retail store.

We're about choice
We offer true offset, short run digital, large format photo & artist canvas prints, custom sticker, poster, tattoo, brochure and short-run booklet printing.

We're Local
Clubcard is an artist owned and operated, customer focused business. Since 1994 we have maintained a strong commitment to serve and support local artists, the arts and fundraising communities. Contact us today and ask how we can offer our support to you.


Our Printing Services:
• Offset Printed Full color cards
• Offset Green Cards (100% post-consumer recycled cards printed on FSC certified stock)
• Same or Next Day Digital Printing
• Custom Offset Printing
• Temporary Tattoo Printing
• Short Run Booklet Printing
• Offset and Digitally printed Posters
• Economy Flyer Printing
• Offset and Digitally Printed Brochures
• Large Format Full Color Posters
• Indoor and Outdoor Banners
• Artist Canvas Printing
• Custom Sticker, Decal & Label Printing
• Licensed Pantone Swatch-book and accessories
• Complete Graphic Design Services

Drop in and enjoy Monday – Saturday 10:AM - 6:PM

2275 Market street near 16th - come on down the stairs!

We're not like any print shop you've seen before!

Call us for live support 6 days a week - 415-865-1930

Visit us 24/7 online where you can shop, order and upload artwork at

www.clubcardprinting.com

Printing Made Fast & Easy Since 1994.