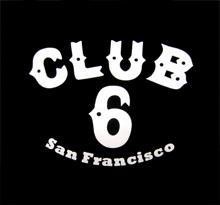 Club Six
Where

60 Sixth Street, San Francisco , CA

Call

+1 415.863.1221

Contact

Web

Tags

Hours

Mon-Thu (9pm-2am)
Fri-Sat (9pm-4am)
Sun (9pm-2am)

About
Six's upstairs Lounge area with sofas galore is a rarity in the city. With a high ceiling and minimal decor, the Lounge is a great place to relax with friends and listen to the phat beats being played downstairs in the Bassment.

The Basement with its low ceiling and twelve speaker system can make even the timid want to dance all night long. Six is a great mix of relaxation (Lounge) and high energy beats (Bassment) where one can have the option of sippin' a martini on a comfortable sofa or gettin' down underground where only the music can be found.

Club Six is 3 Clubs in one. 3 Rooms, 2 Floors. The White Room is a Art Gallery/Lounge. The Darkroom was designed for live performance. The legendary Bassment is downstairs.

Club Six 1998-2012. San Francisco's most Legendary Underground Night Club / Art Gallery / Live Performance Space owned & operated by Angel Cruz.