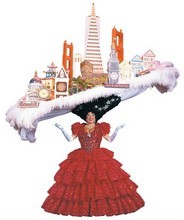 Club Fugazi- Beach Blanket Babylon
Where

678 Green St, San Francisco , CA

Call

+1 415.421.4222

Web

Tags
About
On June 7, 1974, Steve Silver produced a small show in the back room of the Savoy Tivoli Restaurant in San Francisco. The show was to run for six weeks. That was over 39 years ago… Today, Steve Silver's Beach Blanket Babylon has the distinguished title of "World's Longest Running Musical Revue." The show – a musical spoof known internationally for its extravagant costumes, outrageous hats, show-stopping numbers and hilarious puns of pop culture and political character – has been seen by over 5.5 million people, including HRC Queen Elizabeth II, Prince Charles and Camilla the Duchess of Cornwall as well as some of Hollywood's biggest stars.

"Steve Silver's Beach Blanket Babylon," hailed as "a constant cascade of showstoppers" by the "San Francisco Chronicle", follows Snow White as she takes a fast-paced journey around the world in search of her "Prince Charming." Along the way she encounters a star-studded, ever-changing line-up of hilarious pop-culture characters, including President Barack & Michelle Obama, Gangnam Style, Prince William, Kate Middleton and the Queen of England, Honey Boo Boo, Governor Jerry Brown, Justin Bieber, Nicki Minaj, Hilary & Bill Clinton, Oprah Winfrey, Nancy Pelosi, Michael Jackson, Adele, General David Patraeus, "50 Shades of Grey," and The San Francisco Giants.

Notes:

Persons under 21 not admitted to evening performances. Alcohol is not served during matinees. Ticket prices range from $25 - $130, depending on the evening and seat location.
Twitter
Hubba hubba! California Governor @GavinNewsom and Beach Blanket Babylon French Streetwalker (aka our very own Tammy… https://t.co/dN0plH75at
RT @sfchronicle: @BeachBlanketSF made its final bow on New Year's Eve in #SanFrancisco. Nancy Pelosi, Gavin Newsom and other luminaries wer…
RT @LilyJaniak: [email protected]'s last performance ever, on New Year's Eve, after 45 years, was... incredibly emotional. Let's all work to…