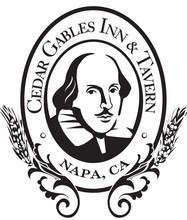 Cedar Gables Inn Cooking School
Where

486A Coombs Street, Napa , CA

Call

+1 800.309.7969

Contact

Web

Tags

Hours

Mon-Sun (7:30am-9:00pm)

About
Welcome to Cedar Gables Inn, a luxurious 10,000 square foot Napa Valley Bed and Breakfast mansion, where enchantment, romance and history await you. Treat yourself to an unforgettable B&B experience as you indulge in delicious three course gourmet breakfasts, evening hors d'oeuvres, fine wines and the ultimate in hospitality. Be whisked away to Renaissance England at one of the grandest and most treasured bed and breakfast inns in Northern California!



The Cedar Gables Inn Bed and Breakfast is a unique and romantic getaway. It conjures the feeling of a time gone by when life was simpler and more peaceful. Cedar Gables Inn was built in 1892 in the Shakespearean style by Ernest Coxhead a prominent architect and has been restored to magnificence. It contains many intriguing rooms, winding staircases, an old English Tavern and of course secret passageways. You find yourself wrapped in luxury known to a select few in the late 1800's. From the deluxe two person whirlpool tubs, to the down comforters and soft robes, you hate to leave the room. There are full bathrooms in all nine rooms.



Napa Cooking Classes:

Paired with outstanding wines from the best wine producing region in the world, the Cedar Gables Inn offers the ultimate Napa Culinary Experience: Hands on cooking classes with top notch chefs from the area. Following the class you will enjoy the fruits of your labor by feasting on your creations and delicious wines in the Inn's elegant dining room

The classes are designed for food enthusiasts. The class size is small and intimate and they are designed for hands-on participation. The only requirements are a love for food, cooking and having fun. All class participants must book their accommodations directly by calling the Inn at 1-707-224-7969 or 1-800-309-7969 toll free.