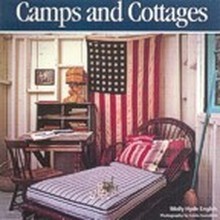 About
Camps and Cottages is now open in Carmel!
From the burnt orange of Yosemite's sunsets to the cobalt blue and foam greens of the Pacific, Camps and Cottages invites you to make a fresh, bold statement by combining the warmth and comfort of cottage living with a rustic blend of old and new. Thank you for visiting our website and invite you to browse our collection room by room. If you are interested in purchasing an item, please give us a call. 831-622-0198 or email: [email protected]

Molly English is the owner and has a keen sense of Camp design to share with visitors to this rustic area. This is a great new store in Carmel Valley and Molly is a delight and accomplished writer of books on this unique style of interior design and artifacts for your "cottage". Be sure and stop in to see her great selection of merchandise and antiques.