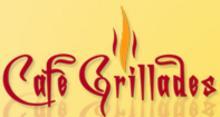 Café Grillades
Where

851 Cherry Ave., #16 , San Bruno , CA

Call

+1 650.589.3778

Web

Tags

Hours

Mon (8:00am-9pm)
Tue-Thu (8:00am-11pm)
Fri-Sat (8:00am-12midnight)
Sun (8:00am-9pm)

About
"A taste of the Mediterranean….and more "

Discover The "Joie De Vivre" Of Cafe Grillades!

Our restaurant in San Bruno has earned a local following of regulars since the San Francisco Chronicle named it one of the "Bay Area's Best Bargain Bites"
-
Whether you are looking for a breakfast meeting, a lunch get together, a pre performance dinner or late night supper, our affordable Mediterranean cuisine and "build your own" omelets & crepes are sure to make you a fan.

Plus we offer a full gelato ice cream selection of flavors and sundaes to satisfy the child in us all.

"Best Desert Crepes"
San Mateo Daily.

"A taste of the Mediterranean… and more."

Expanding their original desire to recreate the authentic savory and sweet crepes they found in France, the paninis and gelato of Italy, Mediterranean inspired salads, and the grilled skewers and authentic couscous plates of the Iberian and North African coast, the Fars also offer " all hours breakfast" with unique baked goods (decidedly not your usual pastries) and "make your own" omelets.

A wide range of vegan and vegetarian dishes are part of Café Grillades's commitment to healthy cuisine. All meat is free range beef or Organic chicken with fair trade, organic coffee and juices a staple.

- BREAKFAST ANYTIME
- HOUSE MADE SOUPS
- PANINIS & SALADS
- BURGERS
- GRILLED ENTREES
- AUTHENTIC COUSCOUS
- GELATO & SMOOTHIES
- 40 CREPES & OMELETS
incl. "MAKE YOUR OWN"

- ORGANIC ESPRESSO BAR

- FAMILY FRIENDLY

- OUTSIDE CAFÉ SEATING

We hope to welcome you soon!

OPEN LATE AFTER CIVIC CENTER ARTS PERFORMANCES
Weekends until Midnight

Party Platters & Takeout Available

Delivery now also available (minimum $25.00).