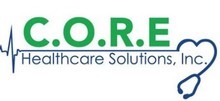 C.O.R.E. Healthcare Solutions, Inc.
Where

1060 S. 3rd Street #137, San Jose , CA

Call

+1 510.552.5261

Contact

Web

Tags
About
Community Objectives:



● Develop & refine an educational series that best serves to share learning projects in community health and case management based upon the latest evidence based medicine.



● Increase public awareness of health and wellness by incorporating the use of best practice.



● Evaluate and expand the range of community learning projects to address health disparities, increase preventative screenings and address cultural competencies addressing public health concerns.



Case Management/Care Coordination Objectives:



Case Manager Consultant: performing in-home assessments, developing and coordinating care plans, telephonic follow-up, providing support, and educational resources.



● 1 on 1 support of patients with condition education, medication reviews and connections to community resources



● Coach patients on treatment alternatives to assist them in decision making



● Identify problems or gaps in care offering opportunity for intervention



● Educate and empower to make informed health care decisions



● Assess needs and facilitate coordination of care for all health care transitions



● Engage patients in their healthcare goals and promote self-reliance



● Inspire and motivate adherence to health and wellness measures



● Identify and educate regarding potential complications/interactions/side effects related to multiple medication use



● Reduction/prevention of avoidable hospitalizations, readmissions and ER visits reducing associated healthcare costs.