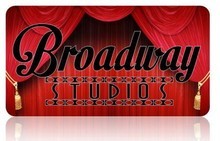 Broadway Studios
Where

435 Broadway St., San Francisco , CA

Call

+1 415.291.0333

Contact

Web

Tags
About
BROADWAY STUDIOS is a special events venue in the heart of North Beach. We cater to a wide variety of events: birthdays, concerts, corporate, fashion shows, fundraisers, graduation, video and film productions, wedding receptions and private parties.

We offer a unique party planning and versatile amenities from either a simple setting to a magical celebration. We have support staff, artists, bands, entertainers and party favors to add to your event.

We welcome event planners, caterers, party vendors, artists, bands, musicians, creative talents and entertainers to promote to our clients for upcoming events. Email: [email protected]

Let us help in planning your next special event: (415) 291-0333. Thank you to our clients!


HISTORY OF BROADWAY STUDIOS

Originally constructed in 1919 as the famous "Garibaldi Hall", Broadway Studios underwent many of its transformations in the 40's when it became the "Italian Supper Club".

Broadway Studios opened its doors in 1993 featuring a wide range of entertainment from Rock & Roll, Swing, Tango, Blues, Jazz and Disco music. In the early 70's, Punk Rock slam danced its way into North Beach as "On Broadway" (with the downstairs Mabuhay Gardens) giving stage time to such famous musical acts as the Dead Kennedys, Iggy Pop, The Nuns, Metallica and many more. In the 80's it housed a variety of theater shows including "La Cage", featuring a transvestite cabaret show as well as the taping of live television shows such as HBO Comedy Specials featuring Dave Chapelle, Harland Williams, Jeff Garland, George Lopez and many other comedians as well as numerous live music shows including a 9 part series on the Blues entitled "Blues Express" taped in 1999. In November 2001 the film, "Swing" was filmed there featuring Jacqueline Bisset, Jonathan Winters and Barry Boswick as well as the late Nell Carter.

In 2005, this historical building underwent a structural earthquake retrofit and a complete remodeling. The Broadway Studios continues to evolve, making it one of San Francisco's finest diverse showplaces for all forms of entertainment including: dancing, live music, comedy, cabaret, television shows, film productions as well as a unique special events venue for private parties, seminars, corporate meetings, fund raising, birthday celebrations, weddings and much more. Adjoining the main room is the Gold Lounge, dominated by an impressive 40-foot ceiling and a French glass wall and a perfect space for smaller cocktail receptions and quiet conversations. This spectacular unique venue with its art deco interior, distinctive ambiance, its newly refurbished hardwood dance floor, its 30' cast iron cathedral ceiling and its majestic wrap around balcony creates a magical and memorable environment for any kind of celebration.