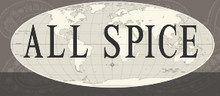 All Spice
Where

1602 S. El Camino Real, San Mateo , CA

Call

+1 650.627.4303

Tags
About
Our Story
Shrouded in obscurity and intrigue, spices have mesmerized and intoxicated mankind for centuries. This essential ingredient has also captivated co-owners Sachin Chopra and Shoshana Wolff, who aptly named their restaurant to encompass the world of spices.

Having worked his way through some of Manhattan's finest restaurants, and most recently, been instrumental in launching a number of successful South Bay Indian fusion restaurants, Sachin is excited to create a restaurant that pays respect to this all-powerful flavor enhancement.

Sachin's seasonal menu incorporates California's fresh-food sensibilities with the traditions of Indian cuisine. Sachin's cooking is exuberant while still being subtle, paying tribute to the lessons learned as a child.