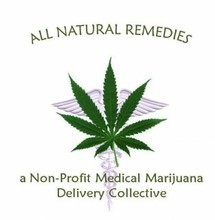 All Natural Remedies
Where

Delivery Only, Sonoma , CA

Call

+1 707.321.1558

Contact

Web

Tags

Hours

Mon-Sun (10am-8pm)

About
We are a non-profit collective that was formed by a group of individuals working in the legal industry that wanted to be a part of the medical marijuana movement. We specialize in providing premium medical marijuana products to qualified patients who join our collective. We have compiled a variety of resources for patients, and are very strong supporters of ASA and CalNorml.


New members are welcome to join our collective, after providing a valid recommendation for use of medical marijuana and upon completion of our Collective Agreement, Membership Application, and Membership Agreement.


Please call (707) 321-1558 or send an e-mail to [email protected] Recommendations can be sent via e-mail or by fax to (707) 497-3558. Edibles are available; made fresh at time of order (24 hour notice required).