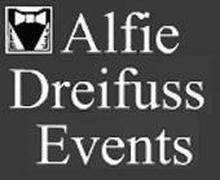 Alfie Dreifuss Events
Where

PO Box 987, Saratoga , CA

Call

+1 408.395.5569

Web

Tags
About
Alfie Dreifuss whom started out as a professional musician, and has performed/emceed at, and produced events for the King and Queen of Norway, the Mitterlands of France, as well as numerous celebrities such as Roseanne Barr, Tom Arnold, Al Gore, Burt Bacharach to name a few.

Our Passion is to personally work closely with our clients to implement, and to play an integral role in creating the perfect ambiance for exciting and memorable events. We lend our 20 years professional experience to ENHANCE your vision, concepts, and ideas with EXCLUSIVE tailoring, design, and personal attention.

Theme Parties; Mardi Gras/New Orleans; Hollywood/Academy Awards; Arabian Nights; Casino-Barbary Coast; Winter Wonderland; Holiday in the Stars; Nutcracker Christmas; Carribean; Western; San Francisco; California Beach Party; 1920's Speakeasy; Putting on the Ritz; Mystery Dinner; Broadway; Olympic-Nic; and more...

We take a lot of pride in presenting only the top experienced professional bands, DJs and musicians in the Bay Area. Let us know what style and atmosphere your event needs; let us know your budget, and we will recommend the best possible available bands to you.

Be it Jazz, Swing, Salsa, R&B, Motown, 80's, high energy 90's or a variety of the decades, we will pinpoint and recommend the best possibilities. Is your event casual or formal... most of the bands will "tux" for you. See below for a partial list of bands and ensembles.

We have always said, "It's AMAZING how the presence of just ONE walk-around Magician can transform the atmosphere at a Dinner or Cocktail party." And that's only the beginning...

Our network and choices of the best professional entertainers are endless. For parties large and small, live entertainers set a great tone.

Caricature artists, Fortune Tellers, Stilt Walkers, Celebrity look-alikes, San Francisco Costume characters, Comedy Magic Shows, Comedians, Costumed Dance Shows, Clowns, Face-Painters, Balloon Artists, Jugglers ( Including the fabulous RASPYNI BROTHERS) The options are endless!

We work closely with artists managements to produce and present these artists if your event requires a BIG NAME ACT. Contact us with your WISHLIST and your budget, and we will present you with a list of exciting available possibilities, generally $15,000 and up. Be it BB King, Jay Leno, or anybody you would dream of having at your event, we will do all the production and travel groundwork for you.