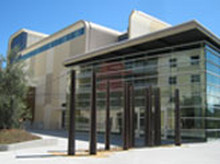 Albert and Janet Schultz Cultural Arts Hall
Where

3921 Fabian Way , Palo Alto , CA

Call

+1 650.233.8699

Web

Tags
About
This spectacular venue offers year round performances and lectures by established and upcoming writers, musicians, dancers, artists, actors and educators. OFJCC Members receive valuable discounts and early registration for select events!

Meet up with friends before a show in the courtyard or lobby and explore contemporary art exhibits in the Harvey & Phillis Koch Art Gallery located in the lobby.

A taste of what's in store:

Monthly concerts in a relaxed atmosphere with our Singles Arts Cafe

Authors & Lectures with local and nationally-renown talent

Free On The Town Summer Series

Dynamic Dance performances by exceptional dance companies

Hilarious comedians to lighten your mood

Family programming for an intergenerational experience

The arts are an integral and enriching part of life. Throughout the year, the Schultz Cultural Arts Hall features music, dance, theatre, lectures and arts programs. Creative expression is encouraged with an array of cultural classes and programs throughout the year. We hope that the OFJCC will build bridges through the universal language of art and inclusive cultural exchange.

Our Vision

The Oshman Family JCC aspires to be a Jewish neighborhood where all are welcome. It serves as a nexus of diverse Jewish communities that opens doors and creates connections for rich, robust and rewarding experiences. The JCC establishes common ground, uniting Jewish institutions, groups and individuals for the betterment of the whole community.

Our Mission

The Oshman Family JCC is a 21st-century Jewish neighborhood that strengthens and integrates our Jewish community as we:

Embody an inclusive, caring environment that celebrates the diversity and innovative spirit of our region.

Offer outstanding civic, educational, recreational, wellness and cultural programming that speaks to our core values and common concerns as modern Jews.

Partner with established and emerging Jewish institutions and communities to make our resources the shared hub of the broader community.

Facilitate connections with Israel and Jews worldwide.

Centers of Excellence

The OFJCC aims to create a welcoming community filled with options for individuals and families of all backgrounds. With this mission in mind, we have established six specific program areas that we consider our core competencies and in which we will focus particular attention on providing exceptional programs and services.