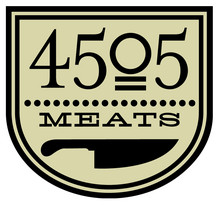 4505 Burgers & BBQ
Where

705 Divisadero St, San Francisco , CA

Call

415.231.6993

Contact

Web

Tags

Hours

Mon-Thu (10:30am-10pm)
Fri-Sat (10:30am-11pm)
Sun (10:30am-10pm)

About
We invite you to join us at our restaurant, 4505 Burgers & BBQ! Equipped with one of the area's last remaining historic wood-fired barbecue pits, we're serving the meaty fare at Divisadero and Grove, 7 days a week.

Our menu consists of classic favorites such as our Best Damn Cheeseburger to slow-roasted brisket and smoked whole chickens, and there is something for everyone (even vegetarians!) at our family-friendly, quick-casual eatery.

What style of barbecue do we serve? Yes, Ryan grew up in Kansas City and many other staff members are from BBQ points south and west. But the truth is this – we serve our BBQ to you not in KC or Carolina or Texas style, but in 4505 Style. We cook our meat and serve it to you the way we think it tastes best. We are informed by the traditions and styles that have come before us, and we honor the greats who have stoked the pits in the wee hours of the night. But just like our chicharrones or our butcher shop, we do things our own way, the 4505 way. We cook this food for ourselves, for our families, and for you with respect, with love, and with passion.

PIG IN OR PIG OUT. Relax on our patio with a cold beer or pick up dinner to take home to the family. We cater, too! Call 415-231-6993 for more details. We hope to see you soon!

Twitter
St. Patrick's Day is tomorrow but we'll let you celebrate today 😜 Smoked Pastrami Reubens all weekend long at… https://t.co/4SJXqM8FXA
You know how we feel about 🍔! Catch these rad cuff links from poppyandhoneybee tonight as part of divis_art_walk ou… https://t.co/mYX95ryTTV
@JATucker7 thank you!!