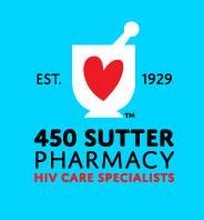 450 Sutter Pharmacy
Where

450 Sutter Street, 7th Floor, San Francisco , CA

Call

+1 415.392.4137

Web

Tags
About
450 Sutter Pharmacy is all about you.

No other full service Pharmacy comes close. That's why doctors and their patients have trusted us for over 30 years.
For example, you never have to be stuck somewhere without your meds. We can deliver your prescription to your home, office or anywhere in America. We're also here to answer your tough questions. We'll even bake you cookies if it helps you take your medicine – it's true, try us. Switching your family's prescriptions to 450 Sutter Pharmacy is easy, just give us a call.

If you have questions about any medications or supplements that you or someone you love is taking, let us know. We can help you figure it out. We're just a phone call away, or better yet, have us make a house call, we'd love to see you.