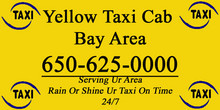 1A Airport own Taxi
Where

2223 Mora Dr, Mountain View , CA

Call

+1 650.625.0000

Contact

Tags

Hours

Mon-Sun (12am-12am)

About




OUR PAST - OUR PRESENT - OUR FUTURE




The Yellow Cab Company was founded in 1946 with the objective to build a business providing First Class customer service. It all started with premium taxi service and progressed to include taxi sedans, luxury cars, airport shuttles and courier services. Today the Yellow Cab Company consists of over 200 vehicles and is one of the largest privately owned transport companies in the Silicon Valley/Bay Area. Over the past 50 years, demand for transportation services has changed dramatically, with greater emphasis on flexibility, reliability and quality service. The Yellow Cab Company has been innovative in meeting those challenges with a range of initiatives such as:



Computerized Booking and Dispatch System


All cars are fitted with an "in-car" screen which gives the driver precise instructions, including map references for the pickup address and detailed remarks to assist the driver.


Global Positioning Dispatch Technology


Each Yellow Cab is fitted with Global Positioning Systems (GPS) that allows dispatch to track the cab and find it in an emergency. We know exactly where the closest taxi is to you…for faster pickup.



Major Credit Cards Accepted





No need to carry extra cash with you when you travel. Expense reports just became easier. Earn frequent flyer miles with most credit cards!





Well-Trained Staff






Our drivers are proud of their profession. All Yellow Cabs are clean and inspected regularly for safety and comfort. All drivers have superior driving records and are certified by the State of California.





Online Booking and E-Mail





For your convenience, click on the next page to book a taxi online. E-mail is a wonderful tool, it allows our customers to give us feedback. Please mention any improvements we can make to provide you with even better service. Also, tell us when our drivers do things right! We want to give them a pat on the back !