Weddings - Honeymoon Vacations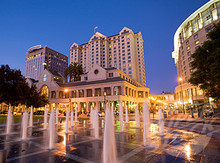 San Jose's Beautiful Five-Star Luxury Hotel
170 South Market St., San Jose CA 95113

408.998.1900
One of the most luxurious hotels in the Bay Area, the historic Fairmont San Jose blends timeless sophistication and modern comforts to create a pampering destination. This stylish hotel aims to satisfy honeymooners with a Platinum Honeymoon Program Package that includes ultra-personalized planning services and covers 5% of the total wedding costs when the wedding and honeymoon are booked at any Fairmont Hotels & Resorts location. This elegant hotel further impresses with posh amenities, three top-rated restaurants and a location within walking distance of fine dining, hip nightspots, theaters, galleries and more.
With a great selection of luxury and boutique hotels, first-class restaurants and fantastic shops, Los Gatos is a wonderful place to honeymoon. The quaint Town of Los Gatos is nestled in the western foothills of Silicon Valley and is a fabulous destination for newlyweds to escape and celebrate with out traveling far from home. Visit Los Gatos and experience peace and comfort.
Wine country honeymoons are full of rest and relaxation. From the majestic Napa Valley to the rolling hills of Sonoma County, Northern California's wine country is a beautiful destination for new couples to honeymoon. Enjoy several top-notch restaurants, lovely wineries, unique day spas and world-class lodging.
When it comes to traditional honeymoon plans, the Hawaiian Islands are top of the list. Boulevard's Honolulu web guide is full of great places to stay, dine and things to do in and around Honolulu. With a wonderful downtown and plenty to see and experience honeymooners can hike along the Diamond Head crater or sun-bathe on the beautiful Waikiki Beach.
Known as one of the Top Ten vacation destinations in the world, Cancun Mexico is filled with popular resorts that are perfect for honeymoon vacations. Long stretches of calm sandy beaches and adventurous activities are what honeymoons are made of and Cancun has it all. Explore ancient ruins and swim in some of the bluest ocean water in the world on a Cancun honeymoon.
Honeymoon in one of the most vibrant and spectacular cities in the world, Buenos Aries. Stay in luxurious big-city hotels, eat at wonderful South American restaurants and experience the culture of Buenos Aries. Honeymooners enjoy the gorgeous architectures, world-class art galleries and quaint shops while strolling through the streets. For far less money than other worldly honeymoons, Buenos Aries is the ideal South American destination for romance and adventure.