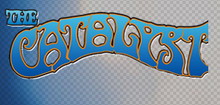 The Catalyst Club
Where

1011 Pacific Ave, Santa Cruz , CA

Call

+1 831.423.1336

Contact

Web

Tags
About
The classic club in Santa Cruz. The Catalyst is where you will find the hottest artists for all types of music, local and national.

The Catalyst's main dance hall is 5000 square feet, not including balconies, and can hold 800 people. Our bar downstairs is 100 feet long, starting in the front room and extending into the concert area. A large selection of beer and liquor is offered here.

Upstairs is the game room with another bar, 6 pool tables a jukebox and arcade games, as well as a lounge. Enjoy your favorite music and some great times at The Catalyst.

--------------------

Most people know the Catalyst primarily as a music venue, but Santa Cruz bar-goers know it's much more than that. Upstairs there's actually a solid dive bar with six pool tables, a jukebox, and even a few arcade games. The smoke-filled lounge is not for the weak of lung, but the cheap Budweisers and multiple pool tables sure make it a good late-night option.
Twitter
Beth Hart tonight! Doors at 7pm early show. RT @BethHart: Santa Cruz! https://t.co/gQTW4Vrjg1
RT @loudieapp: Heavy bass heads come out for @ImFigure at @CatalystClub on Thursday Oct. 8! Claim with no wait, then rage! https://t.co/T1xâ_¦
@MonsterDanny email your full name to cristela(at)Catalystclub (dot) com and you will be on the Figure guest list next week w/ two free tix!