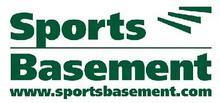 Sports Basement - Sunnyvale
Where

1177 Kern Ave, Sunnyvale , CA

Call

+1 408.732.0300

Web

Tags

Hours

Mon (10:00am-9:00pm)
Tue-Fri (10:00AM-9:00PM)
Sat-Sun (9:00AM-7:00PM)

About
This hefty warehouse has everything to outfit campers, bikers, hikers, swimmers, joggers, snowboarders and skiers. Offering top-quality brands, Sports Basement even has running specialists on staff to help you make the best shoe selection based on body type and ability.

Sports Basement keeps itself competitive in the market place by keeping prices low on top brands like North Face, Uggs, Puma and much more. The marked price on almost every item in the store is 10% - 60% below the suggested retail. Product mix varies from store to store, and now includes about 40 percent "inline" (current, rather than remaindered) products. But it hits most of the outdoor basics, like biking, camping and trekking, and a few neighborhood/urban pastimes, with bins of footballs and racks of Frisbees.

Sports Basement has also established itself as a leader in triathlon and running gear, carrying the best brands and hard to find products like tri-wetsuits. At the Sports Basement you can find brands such as North Face, Solomon, Burton, Adidas, Brooks, Asics, Mizuno, Puma, Hurley, O'Neil, New Balance, Polar, Speedo, TYR, Cannondale, Jamis, and many more.

We have a full service ski and snowboard shop, including rentals, as well as a full service bike shop. Where there's room, there's surprises. At most stores ski/snowboard displays are still out in June, letting customers gear up early for the next season with last year's cool stuff -- at fat discounts.

Sports Basement saves money by not bothering with slick or tidy signage and decor. More comes from spurning traditional marketing and advertising. Those funds instead are directed at community outreach, like outings for inner city kids.

Sports Basement keeps it green by making most of the fixtures and signage in the store out of recycled materials. The company is actually certified green and makes the extra effort to recycle everything it can. Our community friends spend a lot of time in the store, and we love it. Many of our most loyal customers have become part of our motley, yet lovable, crew, bringing enthusiasm and knowledge of their sport with them. But yes, we know most people are inside the store just so they can get outside the store. We know because we're out on the trails, in the Bay, and on the roads with them. You're also likely to spot our little green tent at local events. When you do, come on by and say "hi" and tell us how your season is shaping up. We'd love to chat.

2013 BEST OF SILICON VALLEY Reader Survey Winner - Second Place, Best Outdoor Gear
2009 BEST OF SILICON VALLEY Reader Survey Winner - Second Place, Best Outdoor Gear
2008 BEST OF SILICON VALLEY Reader Survey Winner - Third Place, Best Outdoor Gear

Twitter
Today's your chance to get rung up by a giant watermelon at the Basement. Have a safe and fun Halloween, everybody! http://t.co/8OgwHMQNQB
#SFGiants Clubhouse and Parade tees will hit all our stores by 6pm today! More gear and New Era hats arrive tomorrow. http://t.co/fnrr0agPSI
SB Berkeley isn't open quite yet, but their 1st ever Fun Run is Nov. 4 at 6pm! Come for @brooksrunning and @TomTom demos and free SB tees.