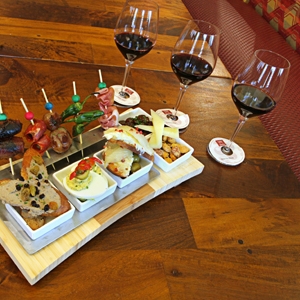 Winemaker Dinner at Tessora's Barra di Vino, Wednesday, May 11
Come to Tessora's Barra di Vino for a special dinner with wines from Niner Wine Estates. Founded in 2001, Niner Wine Estates is dedicated to making exceptional wines using the best traditional winemaking methods and cutting-edge technologies. These wines are big, fruity and perfectly reflect the terrior of Paso Robles. Chef Jenni will be preparing a 4 course meal to accompany 5 Niner Wines. Happy Wednesday!
Riedel Glass Tasting at Morton's, Friday, May 13
Spend spooky Friday the 13th sipping wine like the pros at Morton's steakhouse using Riedel glassware. Drink from some of the world's highest quality, most elegant stemware and learn what a difference a glass can make. Savor fine wines from Chateau Ste. Michelle, sample Morton's signature hors d'oeuvres and enjoy a special parting gift valued at $116, a 4-piece Riedel Vinum tasting set.
Slow Food at EcoVillage, Saturday, May 14
Enjoy pot luck with other Slow Food members then stay for a community gardening project in San Mateo's EcoVillage which is located in San Mateo in two four unit apartment buildings on the waterfront. There are extensive organic gardens and about three dozen fruit trees, chickens, and honey bees. Eggs and honey will be available for sale. Sign up for the event to get the exact address emailed to you.