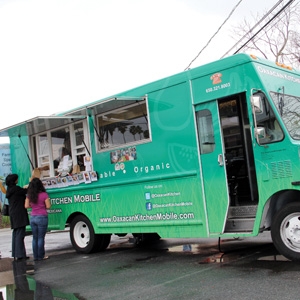 Hot wheels and hot meals: Oaxacan Kitchen Mobile delivers.
When the Oaxacan Kitchen opened in Palo Alto nearly three years ago, it offered a refreshing change from the over-cheesed Mexican-American variety of Mexican food that dominates Silicon Valley. Oaxacan food is a distinctive regional cuisine from southern Mexico that is worlds apart from a chimichanga topped with cheddar cheese and sour cream.
So I was distressed to hear that the restaurant had closed several weeks ago. The good news is that the Oaxacan Kitchen is riding again. And by riding, I mean riding all over the peninsula in a big green truck.
The restaurant has been reborn as the Oaxacan Kitchen Mobile and it pulls up at a different location each day. The restaurant tweets its location to followers to let them know where lunch will be served and what it will be.
The truck menu is largely the same as the former restaurant menu, but to me it tastes even better. Maybe that's because you don't expect handmade tortillas, fresh-steamed tamales and savory mole negro served on a street corner. It's good food in an unlikely place. And there's a lot of good food. Owners Ron and Zaida Kent are throwing a life raft of high-quality, good Oaxacan food to an area drowning in a sea of gringo-fied taco salads and nachos.