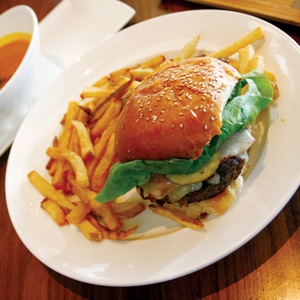 Scratch serves an outstanding burger.
Rob Fischer has another hit on his hands. Fischer is a local restaurateur who owns the Palo Alto Creamery and Reposado, an upscale regional Mexican restaurant across the street from the old-school diner. Last month, he opened Scratch, a fine-dining American restaurant in downtown Mountain View.
Open just over a month, the handsome restaurant, with its circular bar, plush booth seating and open kitchen, is already a standout on the restaurant-dense strip of Mountain View's Castro Street. The street offers a great variety of restaurants, but until now there hasn't been a place that specializes in classic American food. Scratch fills that hole well.
Scratch takes the place of the failed uWink, a diner/gaming restaurant opened by Atari and Chuck E. Cheese founder Nolan Bushnell. All the touch-screen computers are gone and have been replaced with soft indirect lighting and white linen napkins.