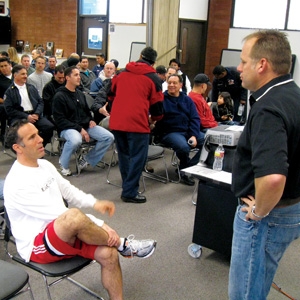 Ethan Anderson, a junior at Woodside High School, explains the functionality of G-Wrath, a robot students built to catapult objects long distances.
Geoff Diesel sits behind a desktop-size mixing board. The indie rocker, DJ and bookish English instructor, 41, has drawn on all of his personas in his current job, teaching an audio production class at Woodside High School as part of a Career Education Training program. Using the industry-standard recording software Pro Tools, Diesel's class sessions would cost students more than $5,000 off campus.
"They come in being victims of technology, having the technology using them," Diesel says. "I'm trying to turn that around. I tell them, 'Learn how to control it.' By the time they leave they'll be able to go into a startup, and with their knowledge and creativity they can bring a lot to an organization."
The audio production class is the brainchild of Woodside Principal David Reilly, who has taken the lead in searching for new ways to engage students at his school. Reilly and the faculty here embrace technology as the great equalizer;a tool that allows everyone in the school's vast economic spectrum to create, calculate and communicate. At a time when public schools across the state are seeing their funding evaporate, the administration and faculty of Woodside have become very aggressive about pursuing grants. That tenacity has borne results.
Applying for a California matching grant, for which more than 100 schools competed, Woodside was awarded $3 million before raising its equal share of the grant. The school also received $1.5 million from the district and will soon break ground on a $7.5 million digital-media center next year.