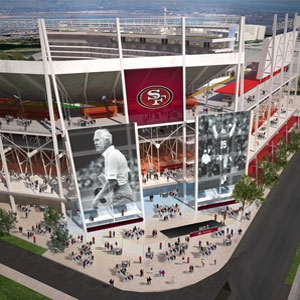 A sketch of the proposed Niners stadium in Santa Clara features a nod to coaching great Bill Walsh.
In the fifth floor of Santa Clara's Techmart business center, a trove of reporters, always appreciative of free food, happily devour sandwiches as San Francisco 49ers officials prepare to unveil the team's new stadium preview center. At a cost of $2.5 million, they have pulled out all the stops to entice prospective luxury-suite owners and season ticket holders.
Standing to the side, a heavy-set bearded man who sports an earring has a smile wider than the others. Jamie Matthews, the city of Santa Clara's mayor, is basking in the glow. And Matthews is on the verge of drastically reshaping the reputation of his city while also, he hopes, bringing in a lot of money. That's something of a miracle in today's municipal finance climate.
While its much larger neighbor, San Jose, awaits league approval for a baseball stadium, Santa Clara has jumped to the front of the queue. The city is only a few steps from completing a billion-dollar deal by pulling off the near impossible: making a professional sports franchise foot almost the entire the bill for a stadium while also giving much of the revenue back to the city.
"For me, it's all about the money," Matthews says. "I've never been to a football game. If a pro player walks up to me, I'm not going to be enamored. What I want is to talk to a team's [chief financial officer]."