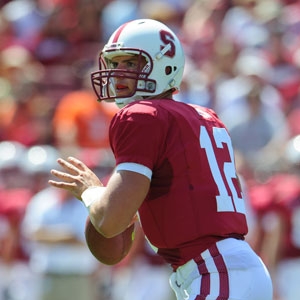 Stanford's luck rests with star quarterback Andrew Luck.
Stanford's Luck Holds
When typing the name of Stanford quarterback Andrew Luck into Google, the second-highest recommended search is "Andrew Luck girlfriend." That designation; we'll call her "Lady Luck"; apparently goes to a Stanford gymnast, but it's a title any gold-digger would be happy to have. The kid is more or less guaranteed to be the top pick in the 2012 NFL Draft, and with that comes a google of dollars in contracts and endorsements.
Sports columnists across the country are so enamored with Luck that many have decided to stop covering their respective pro teams for the rest of the season and start daydreaming about what it will be like to cover his every move for the next 10 years.
For now, though, Luck belongs to the sixth-ranked Cardinal, and life isn't too shabby on The Farm.
Stanford summarily dismissed its first three opponents on the schedule by a combined score of 138-27, and the point-differential snowball isn't expected to diminish Saturday night when UCLA comes to town. If San Jose State was able to give the Bruins a close game in Week 2, Stanford should coast to victory. (On a side note: shoutout to the Spartans for beating New Mexico State 34-24 last week. The win was SJSU's first in more than a year. For that, players now have our full permission to start accepting impermissible benefits from program boosters (assuming there are any left.)
While Stanford might not get much of a game from UCLA, having a chance to see someone of Luck's caliber live in action is worth the price of admission. Unlike most things in this overhyped world of sports, the Heisman Trophy frontrunner really is as good as advertised.