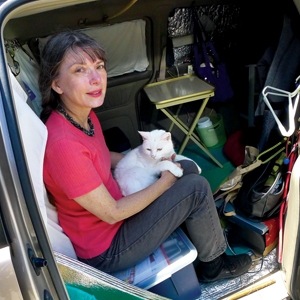 Winifred Thomas and her cat, Toby, began experiencing mysterious ailments soon after a PG&E SmartMeter was installed on their home. (Photo by Felipe Buitrago)
Late last year, Winifred Thomas quit taking her weekly hike around the three-mile Stanford Dish loop. Her health had been deteriorating for months, she says, until shaky limbs, physical weakness and persistent headaches made her unfit for most activity beyond household tasks.
Then, in January, Thomas' health crashed entirely, with insomnia, loss of leg mobility and chronic dehydration essentially crippling her. She says she began experiencing spontaneous burning and peeling of her skin and violent beating of her heart "so loud that other people could hear it."
"I was pretty much bedridden for all but about two hours of the day," Thomas recalls.
Thomas says she did not know at the time that a SmartMeter—one of PG&E's new wireless power-reading devices—had been installed on her home by the energy provider in early 2010. As far as she is concerned, that is what sparked her symptoms. Only in February, after being struck, she says, by an invisible force field while walking across her front yard, did Thomas inspect her home and take full notice of the device, as well as the SmartMeter on her neighbor's home.