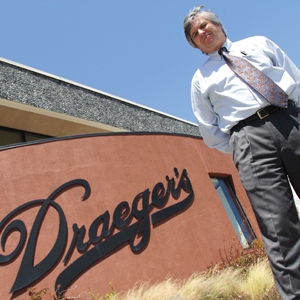 Richard Draeger of Draeger's Markets believes that a small, local retailer can thrive even in tough times.
After 14 years, Zanotto's downtown San Jose market is finally closing its doors. By the end of the month, the local family chain plans to shutter the city-subsidized location, which has struggled since it opened in 1996.
Zanotto's isn't completely abandoning the downtown area. Troy Tibbles, the store's manager, says they'll soon ink a lease on a nearby spot formerly occupied by a pizza parlor and reopen there as a smaller deli operation on Aug. 1. Zanotto's Express, as the new venture will be called, will serve up sandwiches, salads and sushi in a grab-and-go format.
"What we're going to try and do is service the lunch clientele," said Tibbles, who has been with the Zanotto's family since 1984 and took over management of the downtown location in 2002.
Like Zanotto's, other South Bay independent grocers have struggled to stay open as the economy tanked or bigger competitors, from specialty grocers to big box stores, moved in on what was once their turf. In February, valley institution Cosentino's closed down after 63 years in the grocery business. Last year, PW Markets transitioned from grocer to real estate agency when they began leasing the buildings that once held their five San Jose stores.