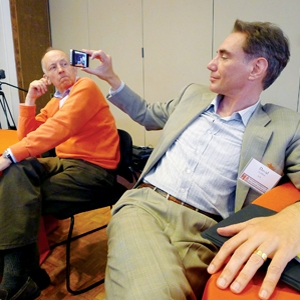 David Nordfors of the Stanford Center for Innovation invited journalists from around the world to Palo Alto this week to talk about the new tools of the trade.
The narrative of freedom is being told at Stanford University this week, in the same way that it's been told across the world for months, as journalists from countries crumbling and developing have come to Palo Alto to stay a step head of the social-media curve.
There are probably only a handful of ink-stained print reporters in the room on the opening day of the Eighth Conference of Innovation Journalism, which might explain why everyone seems so happy. Eight people sit at a table, leisurely sipping coffee and passing glances among one another, and occasionally toward the front of the room. When their attention wanes, they go back to their Twitter feeds, tapping away on iPads, smart phones and laptops.
There are ten other tables of people in this filled-to-capacity ballroom, many from outside the United States. In recognition of current events, Stanford invited several journalists and bloggers who participated in the recent upheavals in the Middle East.
It is not a universal digital love fest, however. At this moment, everyone's attention is directed toward a spectacled man slight of frame who peers over a podium and grins devilishly.