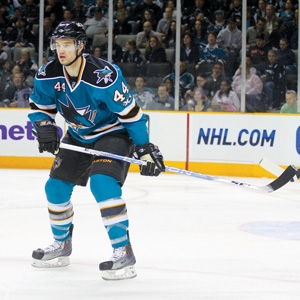 Marc Edouard Vlasic and his fellow defenders need to man up if the Sharkies are going to keep moving on in the playoffs.
The great Gordie Howe, also known simply as "Mr. Hockey," once said: "All hockey players are bilingual. They know English and profanity."
Well, considering how diverse San Jose Sharks fans are, we might as well be the damned United Nations sitting around a television screen. The Sharks play, Dad curses, the baby cries, Mom wonders if the hockey sweater she's wearing makes her look fat (it kind of does). Basically, everyone is on edge.
And how could we not be? The Sharks lead the Los Angeles Kings 2-1 in their opening-round playoff series, but were it not for one of the greatest comebacks in playoff history Tuesday night for a 6-5 overtime victory, as well as Joe Pavelski proving once again that some people were born to play in the postseason—with his picture-perfect slapshot giving San Jose a Game 1 overtime win—fans might be wondering what they said to the waitress to deserve being served a steaming-hot turd sandwich in the first three games. The Sharks are just a few plays from being down 3-0 at this moment. But they're not.