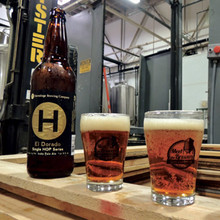 Hermitage Brewing Company
Where

1627 South 7th Street, San Jose , CA

Call

+1 408.291.0966

Web

Tags

Hours

Mon-Wed (n/a)
Thu-Fri (4pm-8pm)
Sat (1pm-6pm)
Sun (n/a)

About
Hermitage started when Tied House closed down its iconic downtown San Jose location in mid-2009. All the brewing equipment was transferred down the road to South 7th Street, where Hermitage is today. Hermitage soon added a bottling line, complete with disco ball and audio of ABBA's greatest hits, which automatically starts when the bottling line is turned on.

Hermitage Brewery is becoming widely recognized for its Hoptopia, Maltopia, Ale of the Imp, Single Hop "H" Series IPAs, and craft soda brands. In 2011, Hermitage took four Gold Medals at the California State Commercial Craft Brewers Competition. Celebrator Beer News awarded One Door Quadrupel with four out of five stars in 2011, and Hoptopia DIPA four out of five stars in 2012.

Twitter
RT @deztopia: Tried the Sour Pumpernickel Rye from @hermitagebrews while watching the @warriors dominate last night. Delicious. http://t.coâ_¦
What did you think? @aaronisbrewing @hopbeer
@KenTwoBar going 0 for 2 with you. Too bad. Thanks for the feedback, though. Cheers.