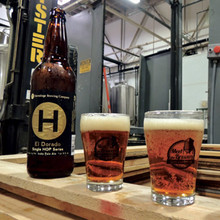 Hermitage Brewing Company
Where

1627 South 7th Street, San Jose , CA

Call

+1 408.291.0966

Web

Tags

Hours

Mon-Wed (n/a)
Thu-Fri (4pm-8pm)
Sat (1pm-6pm)
Sun (n/a)

About
Hermitage's comfortable, hidden, no-frills tap room is located inside the brewery, with five beers served year-round. The flights are aromatic and diverse. The flagship is the single-hop IPA series, Citra, but Hoptopia and Maltopia remain San Jose classics as well. They taste just how they sound: hoppy, malty and smooth. The high ceilings, gargantuan fermentors and dozens of stacked barrels add to the ambiance, but are also a prideful testament that Hermitage is a beer accelerator for the entire Bay Area. Hermitage sells bottles and kegs, and they also have occasional food truck visits. Try their Sour Pumpernickel ale, a limited edition beer.

Twitter
RT @Rochclip: #TapTakeover #GoSharks - Drinking an Aye Yai Yai by @hermitagebrews @ Campbell Pizza Company — https://t.co/oVxFkmRpT7 #photo
RT @beerlytics: Sour pink lemonade - Drinking a Flower Sour by @hermitagebrews at @2020cheesebar — https://t.co/gpKVS6vg02 #photo
@Iheartpreviews @TheTapAndBottle Have you tried our Cherry Almonds sour? Put that on your list to try next!