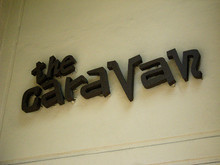 The Caravan Lounge
Where

98 Almaden Ave, San Jose , CA

Call

+1 408.995.6220

Contact

Web

Tags

Hours

Mon-Sun (11am-2am)

About
No frills, no stage and plenty of cheap drinks. Now that's rock & roll. Expect to see some loud performances by local and regional punk and metal bands (with the occasional indie-rock group). There are shows every Thursday, Friday and Saturday and never a cover charge.

Caravan Lounge calls itself San Jose's best dive bar and it's probably right. Everything is poured heavy at the 'Van. Local regulars, college kids, metal-heads and San Jose punks soak up the cheap cocktails and the dive bar scene at a steady pace. You can hear virtually everything on the jukebox or come in to shoot some pool and down a brew 15 hours a day. Seriously, the Caravan Lounge is open from 11am to 2am.

Here's a weird thing about the Caravan Lounge: those who don't go there sometimes complain about its 'hipster' crowd. Um, sorry, but the Caravan has nothing to do with trends of any kind. These regulars have been dressing that way for 20 years. It's just that trends have circled around to embrace the Caravan's scruffy rock look once again. The live music's still free and the crowd is still a blast.

2007 BEST OF SILICON VALLEY Staff Pick and Reader Survey Winner - First Place
Best Dive Bar



-----------


The heavyweight champ of dive bars, the Caravan Lounge is a die-hard local watering hole where the unpretentiously thirsty can carry on with excellence. When local bands and DJs aren't blaring out rock-centric tunes, the jukebox supplies just about every kind of music you can think of, offering a soundtrack for tattooed sharks to sharpen their skills on the pool table. All walks of life congregate here regularly; wizened blue-collar sots, punk rock hipsters with artfully messed up haircuts, biz pro types taking a relaxing post-work walk on the divey side and even the occasional vagrant whose last bit of cash is dedicated to the strong and cheap drinks the Van provides. Seriously, this place welcomes everyone, even writers who need to end their day with a good shot and a cold beer.